We kicked off the exhibition of Yuroz's museum collection, Symbiosis, at the Coral Springs Museum of Art in Florida with the artist's opening reception. We took home some beautiful shots of the installation and of the ceremony. Museum goers mingled with the artist, took pictures and had the rare chance to learn about the artist's exploratory journey, not only from his visual narratives but up close and personal.
The Installation (#emptymuseum)
The Artist Opening Reception (#museumselfie #artselfie)
Symbiosis is Yuroz's abstraction of the relationship between human and our surroundings, in this case, the trees. You can find the artist statement of Symbiosis by Yuroz here. If you have not seen the video posts of behind the scenes guide by curator and art critic, Bruce Helander, during installation, or his guided tour around the museum to view the art collection, click on the posts below to view:
Behind the scenes at Coral Springs Museum of Art with Guest Curator and Executive Director on Yuroz's Symbiosis
View Footage from the Artist Opening Reception for Symbiosis at the Coral Springs Museum of Art
A picture says a thousand words. There is no better way to wrap up this post than to display this candid picture taken while two art professionals were stealing a moment of tranquility together. Sitting in silence, with a supportive embrace in front of one of Yuroz's Symbiosis compositions, their minds drift but their beings are in sync. Peacefully, they sense the essence of the artist's energy from the painting, making that magical connection, with the environment and with each other.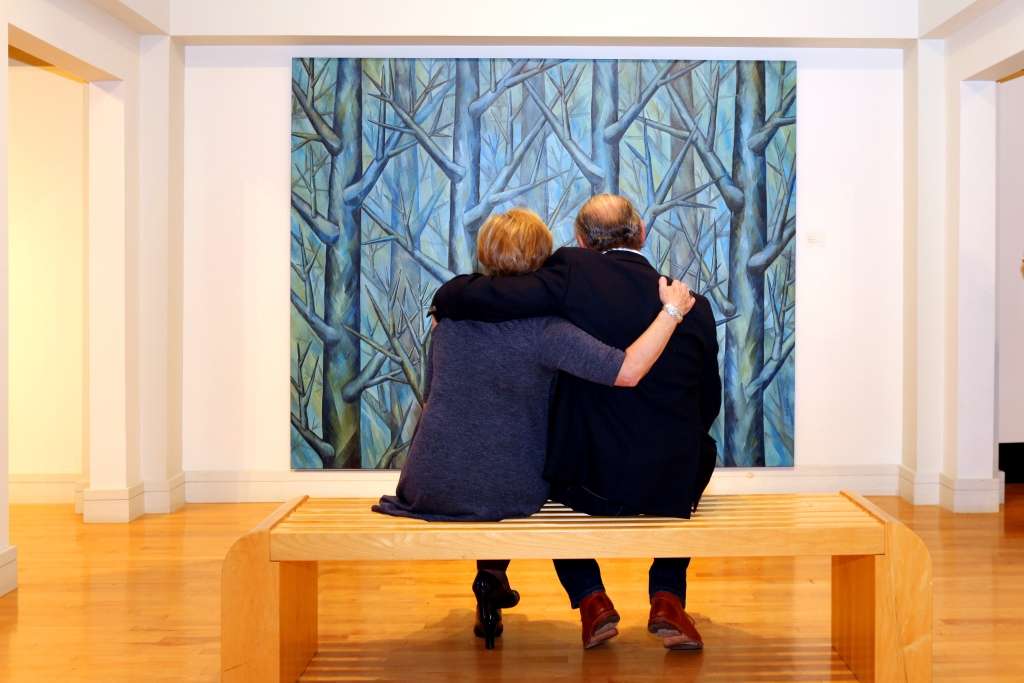 Join us to see select work from the Symbiosis Collection in New York this month at Art New York presented by Art Miami at Pier 94 on May 3rd to 8th. Register for your invites here.