In music, Jazz was a genre born in the late 19th and early 20th century in a port city, where American and European styles were exposed to African folk and culture, stimulating a spirit of experimentation and improvisation. In fine art expressions, historical stylistics vary even more from genre to genre and evolve from prehistoric to modern times, leaving traces of human emotions that span through evolutions of solo and communal experiences.
Musicians have been recording covers of their own songs and other artists' pieces. "Amazing Grace", for example, only began to grow in popularity 60 years after its creation by an Englishman, John Newton. Multiple renditions rose to the top 50 list multiple times in the 70's for what started out as one man's gratitude towards the gift of grace that uplifted a soul from despair to salvation. There was this shared longing to be stirred and to be brought to a different level that transformed the song into the most improvised hymn. The jazz movement of improvisation accelerated this trend as musicians were touched by the same experience of bliss that moved them to want to represent its essence in their own voice. Singer, Judy Collins, described how each time she sang that song, it was as if she was entering into a mystical territory between herself and the audience, where she gives something to them and they give her something back, where the exchange was more than the sum of all of them.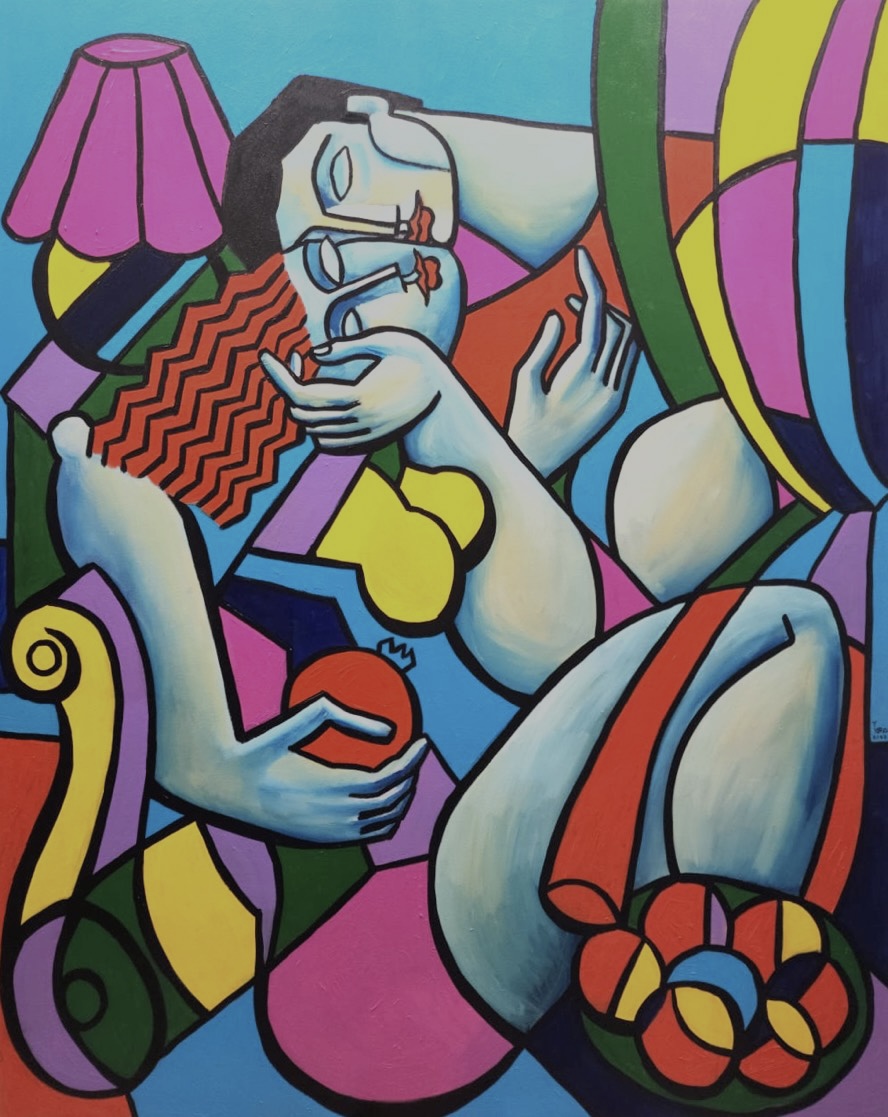 Yuroz lovers have populated the walls and three-dimensional spaces of art collectors near and far for 35 years. His new Jazz Collection put these lovers' intimacy on full display. Much like in jazz music where one instrument answers another in call and response patterns, the lovers' guitar with no strings and her offerings of love, romance, peace and prosperity with symbolism silently strum each other's heartstrings as viewers echo with their own lyrics of their personal heart songs.
At the core of this collection, viewers find the expressive lovers' faces, with signature Yuroz long necks and impassioned arms consistently as the lightest shades of light colors as the artist directs our eyes to dialog with his lovers. These act like the swing and blue notes in jazz, creating rhythms that sync the collection in a coherent symphony, yet, laden with surprises to delight his viewers.
Playful traces of cubist composition peer off Yuroz's canvases with flowy lines, curvy accents and strong black divides. In contrast, however, is Yuroz's syncopation of vivid colors, deliberately and purposefully confusing viewers' minds while keeping their attention to connect with his visual narratives.
In the Jazz Collection, Yuroz improvises with his elements and asserts his creative freedom with a hint of Fauvism. His fierce brushstrokes with textures and deliberate shades for accent complements the opposite and analogous colors with strong black divides show off the artist's understanding of color and light for his geometric stylistic elements. This collection is a powerful visual orchestra of solos, and duets of tenderness, yearning, desires, and emotions, aiming to inspire an emotional connection deep in our souls and with each other, one moment at a time.
A born explorer with a love of life with curiosity about new things abound, Yuroz shares his explorations in his visual representation. Each time, as he adapts to the unique energy of a new world, new poetries unfold in new Yuroz speaks.