Unveiling his 9′ x 6.5'H oil on panel romantic mural, "Offerings of Love" c. 2013, narrative representational artist, Yuroz, famous for his use of symbolism and masterful composition engages his audience with his answer to Botticelli's "Birth of Venus" as he breaks down the ethereal elements in the ultimate connection with female energy.
Heavily influenced by his classical training and his love of the work of many Renaissance masters that came before him, Yuroz conceived Offerings of Love in 2011 and finally finished this 70" x 108" (196 cm x 275 cm) mural in 2013.
Here, Yuroz's female stands tall as she baths in the simultaneous offerings as the subject of the adoration and admiration.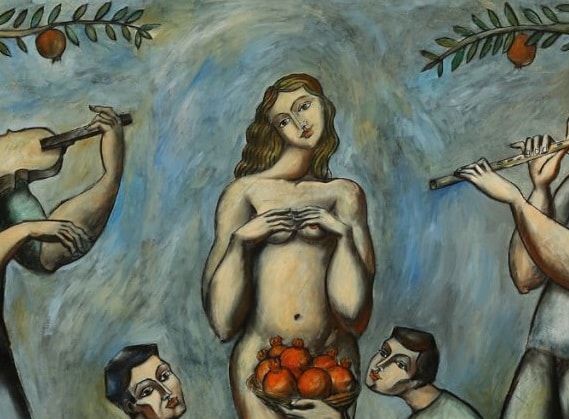 With a slight tilt in her head, she modestly covers her chests with content eyes, feeling whole from the gifts of male energy.
The use of rhythmic light and guiding brush strokes creates an aura around the female, hinting her angelic attributes and the mythical power of the female energy.   The placement of the pomegranates in the bowl and on each tree drew a visual "V" shape, almost supporting the top of the female body, all to put her plainly in the focal point of the painting.
Technically, while we can see a deep space with mountains afar in the background, the canvas feels flat as Yuroz places the men in the same plane.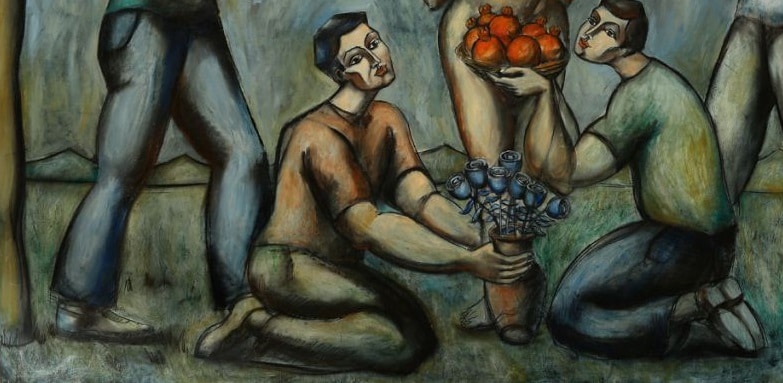 All around, one figure is not behind or deeper into space than another, emphasizing the wholesomeness of the simultaneous offerings by the male figures as they dedicate to the higher power of procreation and human connection.
The color of the men's clothing picks up one of the background colors, presenting a harmonious scene as each element of the painting congenially supports the the raw power of the female that stands in the middle.
From conception to finish, not unlike most masters, Yuroz always starts with sketches in the idea stage. The development of this mural was indeed a labor of love that spanned two years.
The artist hopes to connect with your story by offering his.  A narrative of the painting hinting what the artist felt at his core as he embarked on the development of this masterpiece is displayed below.
>>>Go HERE >>> to our product catalog to view detail images.Fill out the form below to contact us with questions.