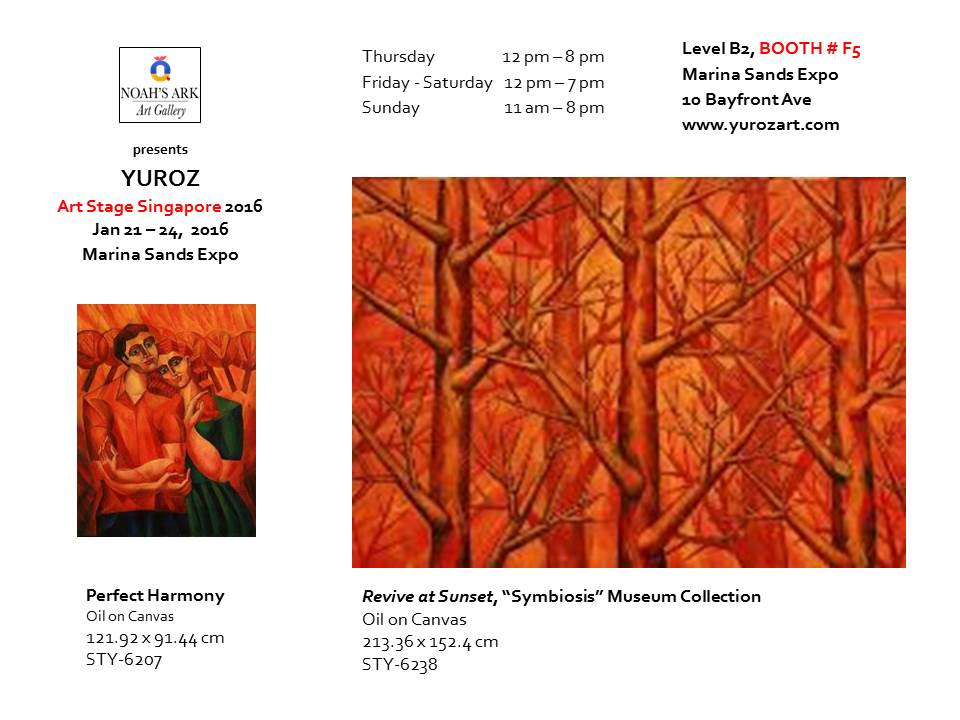 Yuroz and Noah's Ark Gallery are returning to Art Stage Singapore from January 21 through January 26, 2016 this year!
Of course our staple team of art advisors, Arnold, Jennifer, Karos, Alvard, and last but not least Yuroz, cannot wait to see friends and colleagues we met last year. Visiting with collectors, art lovers, art connoisseurs and industry leaders halfway across the world to catch up and share the latest finds is absolutely the highlight of our show activities.
We have included in this article a number of pictures from last year's show here, including our documentation of Yuroz's excitement when drawing on shirts of children and friends and we look forward to doing the same this year.
We will be sharing a beautiful new body of work Yuroz created for this show. Put together as a new mini-retrospective collection, this Art Stage Singapore collection connects the dot for where the artist was and where he is heading. Yuroz's work knows no destination as he continues to innovate to deliver his visual narratives of romance, love, harmony and tranquility. As a bonus, included in this body of work is a sneak preview of work for Yuroz's new museum collection, "Symbiosis", scheduled to debut this March in Coral Springs Museum of Art in Florida.
Each of us here has our favorite pieces and we cannot wait to find out which ones are most coveted at the show.
We will be hosting the exclusive VIP Preview and Vernissage. Please let us know if you have plans to visit and we will send you a personal invitation for the events. Look for us at Booth F5 and for our friends who could not be there, check back with our blog for updates. We will be journaling to share our excitement throughout the show.