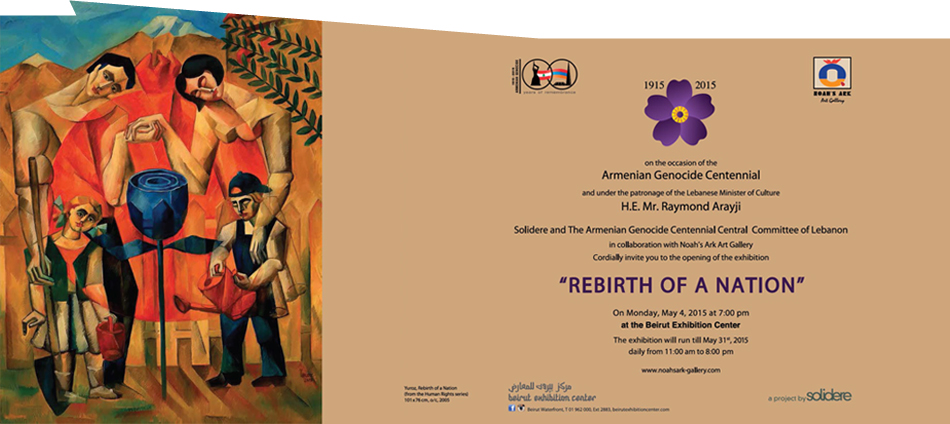 Armenian's native son, Yuroz returns to his homeland to join H.E. Mr. Raymond Arayji, Lebanese Minister of Culture, Armenian ambassador, and the Armenian Genocide Centennial Central Committee of Lebanon to commemorate the 100 years since the Armenian Genocide through the cultural exhibit, "The Rebirth of a Nation".
The violet forget-me-not flower, adopted as the symbol of the centennial of the Armenian Genocide, reminds all of the promise of humanity to heal and be reborn. As a true avant-garde in modern art, his combinations of light and movement in an enriched Cubist style, Yuroz' art promotes healing, edifies human emotions, promotes peace and advocates for tolerance, the keys to the rebirth of a nation. When love and compassion are liberated, humanity recalls our divine qualities, bringing light and hope where darkness once reigned.
When addressing the Centennial, Armenian President Serzh Sargsyan expressed the grief of the Armenian people, "I am grateful to all those who are here to once again confirm your commitment to human values, to say nothing is forgotten, that after 100 years, we remember. Never again." Pope Francis expressed great sorrow for the needless slaughter of 1.5 million Armenians in 1915 when addressing the Centennial, labelling the tragedy the "first genocide of the 20th century. Russian President Vladimir Putin said of the Centennial, "Today we mourn together with the Armenian people." French President Francois Hollande promised, "We will never forget the tragedies that your people have endured."
Twice commissioned by the United Nations Mural for Human Rights, Yuroz speaks quietly and powerfully to the greatest elements of humanity through his art. Yuroz pleads for humanity to decry genocide, mass atrocities, and hatred in favor of a celebration of life, love and creativity. Greg Bedian, Chair of The Armenian National Committee explains, "The only way to prevent future genocide is to raise awareness of what happened and how it happened."
Yuroz issued an appeal for worldwide support for this necessary step to healing. This appeal is non- violent, non-vengeful but a necessity for the nation and their nationals to be able to move on to celebrate creativity and life. Yuroz concluded with a final appeal to end genocide and abolish mass atrocities worldwide as "no one should be persecuted for their religion, cult or creed, not now, not 100 years ago and certainly not in the future."
Minister Arayji will open the event at the Beirut Exhibition Center on Monday the 4th of May at 7:00 pm with Yuroz in attendance and as guest speaker.
More information about Yuroz, visit yurozart.com.
About Yuroz
Yuroz is a celebrated Los Angeles based master artist whose work spans across mediums and genres, and cuts through dimensional, geographical, economical, racial, political, philosophical and religious boundaries. Through his work, Yuroz, a painter and architect, celebrates romance, edifies human emotions, promotes peace, and advocates tolerance, encouraging healing and growth while liberating love and compassion.
Yuroz is the only living American artist who has his work hung in the Vatican's permanent collection. "The Light of Compassion" honors the sainthood of Arcangelo Tadini, the Saint of the Working Woman, a masterpiece specially commissioned by Pope Benedict XVI's Vatican office and unveiled at a ceremony where Pope Benedict XVI blessed the painting in Botticino Sera, Italy.
Twice commissioned by the United Nations to produce the United Nations Mural for Human Rights, Yuroz donated images from his murals, "Respect for Refugees" honoring the 50th anniversary in 2000, and "Human Rights" dedicated to Human Rights Education from 2004 were reproduced as stamps and released around the world. Several million of Yuroz's stamps were sold around the world raising funds for the United Nations. These murals have travelled with Yuroz nationally and internationally in ongoing sponsored events to raise awareness and raise funds for the underprivileged and other humanitarian needs.