The L.A. Art Show marked the unveiling of three very important bodies of work from Yuroz.
Standing tall and proud on the feature wall of our booth was the newly released wall sculpture, "Romance with the Guitar" that has taken Yuroz ten years to finish. While the artist had the vision, the technology has only recently caught up with that vision.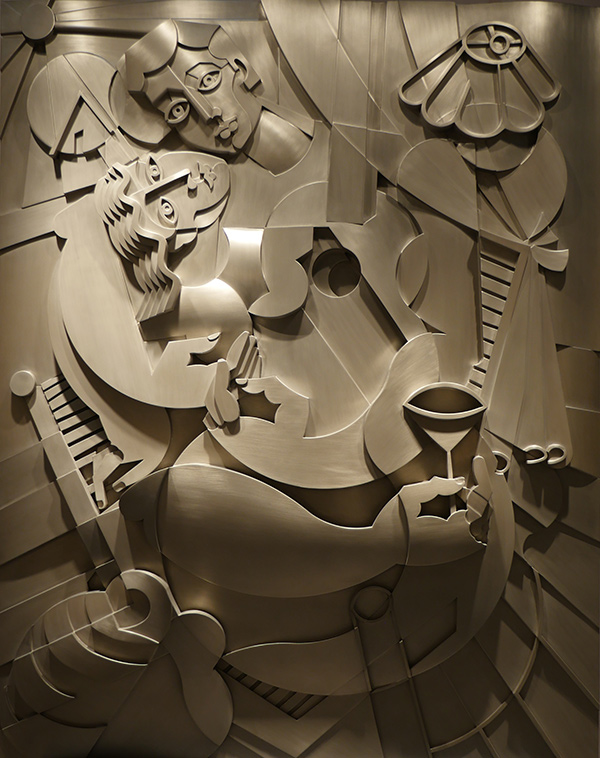 A metal sculpture of this magnitude would have weighed over a thousand pounds but this masterpiece has lost considerable weight with Yuroz's development efforts while preserving the luster and elegance of the metal finish.  "Romance with the Guitar" comes in nickel composite hand finish and with poly composite is offered as a limited edition series of 7.  Contact us for more information.
Select pieces from Yuroz's ICONO Collection were unveiled at the show.  These consist of both original paintings and limited edition sculptures, all hand finished with 23k gold leaf.  Subsequent to the show, Yuroz announced "Dance with the Pomegranates" hand printed serigraphs, limited edition of 75 with the plan of more to come from the rest of the paintings in the ICONO Collection.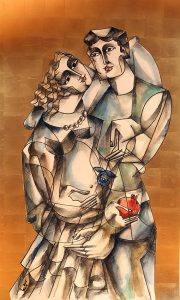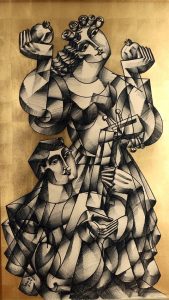 Contact us for more information on this beautiful collection inspired by the European, Russian and Byzantine iconography branch of art.  The images created present an incredible sense of balance between a palette of basic colors and the multi-dimensional coalescing of simple lines, curves and shades.
A follow on to Yuroz's Eternity sculpture in the Nirvana Collection of modern romantic sculptures with simplistic but sensual lines and dimensions, Yuroz released three other sculptures in this collection: the "Allure", "Seduction" and "Reclining Nude".
Offered in limited editions of 25, each of these new cast bronze sculptures are offered in 3 finishes: polished bronze, polished stainless steel and 23K gold finish. The 23K gold leaf finish is a part of our ICONO Collection sculptures.  Contact us for more information.
Last but not least, the "Dancing Trees" from Yuroz's Symbiosis Museum Collection was showcased at this exhibition.  It is one of the original oil paintings in Yuroz's abstraction of modern trees.  The "Dancing Trees" is the feature image of the Yuroz's one man exhibition currently at the Coral Springs Museum of Art.   Besides oil on canvas original work, Yuroz came out with an amazingly inventive new style that beautifully portrays the forest with a defined 3-dimensionality, reminiscent of early simple work from de Kooning. Many spaces on these panels are negative as opposed to positive.  Contact us for more information.
For more images, view the Symbiosis Collection here.
As powerful as Yuroz's artwork is, the most powerful highlight in any show is the interaction with collections, art lovers and industry insiders to catch up on their news.  Here are some pictures from the opening night.
Yuroz has this habit of grabbing any white surface and improvise as his canvas or drawing board and is referred to as "the Artist of the People".  In the L.A. Art Show, Yuroz gracefully moved around white surfaces surrounding him, signing posters, drawing on catalogs and white shirts.  He takes great joy at these shows to be able to connect with the audience one on one.  He calls this a very valuable exchange as he is able to gift a simple original drawing of a glimpse of life his audience shares while he gets inspired by the same as he keeps his sense fresh.
Here are some pictures of the art display at the booth:
To view the collection displayed at this show, visit here.
We look forward to returning to the show next year and seeing everyone again!