For Immediate Release:  Los Angeles, CA, September 1, 2016 – To promote the concept and development of public art, Yuroz's Eternity sculpture, a 13 feet (4 meter) installation in polished steel finish, will be unveiled in the 5th International Urban Sculpture Festival and subsequently acquired into the permanent collection of Jimo City, one of China's cultural power centers. Yuroz, a master painter and sculptor created the Eternity sculpture as a contemporary minimalist representation of the restorative power of wholesome love and compassion.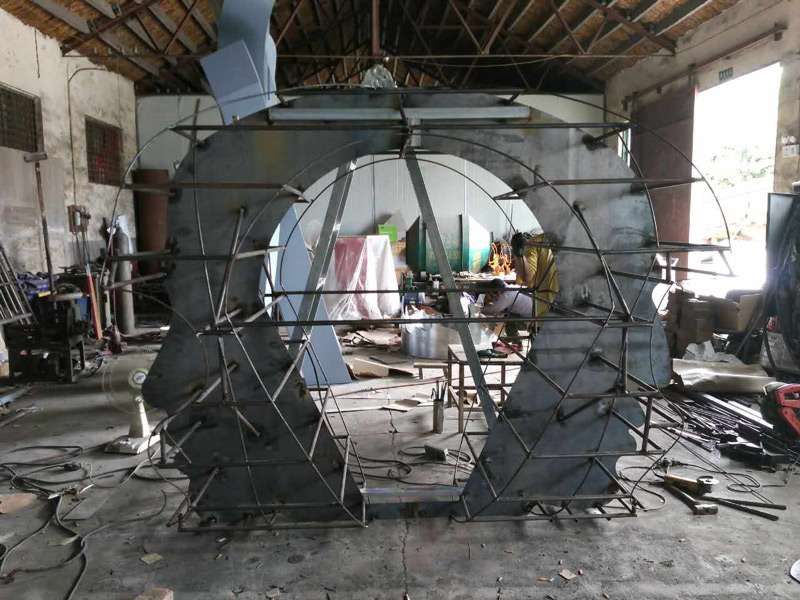 Moso Art Gallery and Yuroz Art Studios are pleased to announce that after an intensive search and selection process conducted by the Municipal Publicity Department of JIMO City and JIMO City Federation of Literary and Art Circles of master sculptors around the world, Yuroz was elected as one of the select international artists to be invited to participate in the 5th International Urban Sculpture Festival 2016, a historic international culture exhibition to open on September 22nd, 2016 to be held in Chuangzhi New District of JIMO City, Shandong province, P.R. China.
The large-scale installation of Yuroz's Eternity sculpture (13 feet/ 4 meter tall) in polished steel finish is specially commissioned to be acquired by JIMO city into its permanent collection on display to promote the concept and development of public art.  The Eternity sculpture is Yuroz's universal and marque symbol of humanity.  The gallery size limited edition cast bronze series in polished bronze and 23 karat gold leaf finish was released in 2015 and has been collected by art lovers worldwide. Eternity celebrates the restorative power of wholesome compassion, creativity and love, allowing us to feel understood and safe.
We kicked off this project by sending Yuroz's handmade sample of a mini model of the sculpture to China.
Phase I: Sample Model Preparation
Equipped with computer programs, model, and 24/7 access to Yuroz, Chinese artisans began the fabrication of Eternity in China.
Phase II: Fabrication in China
"Qingdao is an international metropolis and the regional trade center in the North East of China. The root of Qingdao's culture is in JIMO. AU Wangshan Forest Sculpture Park is one of China's cultural epic centers. I am humbled to be selected among the ranks of international master sculptors to leave my mark in the history of this culture-rich nation for many generations to follow. I hope this installation will stand as a statement of our mutual love for the arts, a joint force to balance the world with positive energy, and our collective commitment to make the world a better place. I am thankful for the ecosystem formed by supporters, collectors and friends around me during the last 30 years in my endeavors to create art to make a difference. The power of the arts is  in its universal language that allow all of us to share our ideals, piercing through any language or geographic barriers," Yuroz explained.
"The Eternity sculpture is very special to me as it is the embodiment of my lifelong message in my artistic career. Looking back, sketches of this sculpture began to appear in my work over twenty years ago. It has been my dream to enact this symbol of humanity around the world. This is a reminder of the restorative power of love and compassion in improving human condition and to actualize a better world for ourselves and for generations to come. The opportunity to collaborate with local Chinese artisans and participate in this international cultural exchange reinforces my mission and lifts my spirit," continued Yuroz.
Yuroz is a messenger of love, compassion, knowledge and understanding. His mission is to lift us through his art and fill our hearts with his timeless images so we feel compelled to pass love forward. Personally, to be awarded the opportunity to play a part in bringing Yuroz's message to JIMO city, in Shandong Province, a Northeast Province of China where both of my parents are from, and to promote the development of public art alongside Chinese professionals, artisans and living world masters is very significant to me," explained Pandora Pang of Moso Art Gallery.
About Eternity
The Eternity sculpture depicts two lovers who bare their external portraits to the world's embrace while unmasking their internal being only to each other.  This inner self is the embodiment of our unyielding love, passion and emotion. It fuels our belief system, heals our wounds and gives strength to the exterior armor that in turn protects the sanctity of our inner peace. As chameleons morph while some stubbornly uphold their cores, the rose is the inner sanctum that harmonizes the faces we show the world.
For more information on the Eternity installation and other sculptures and wall reliefs, please contact us here.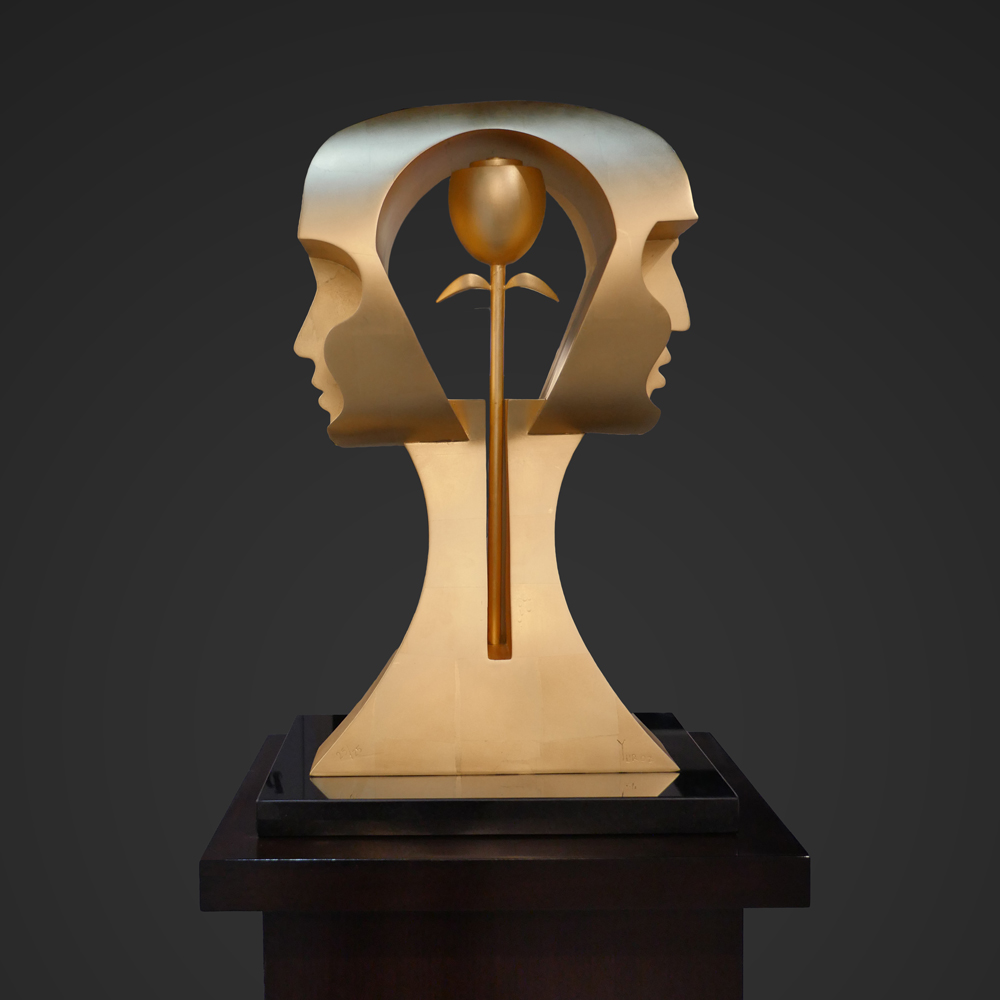 Eternity – cast bronze sculpture. 23K gold leaf finish. Edition of 25. Gallery size 10 x 18 x 31 inches (25.40 x 45.72 x 78.74 cm)