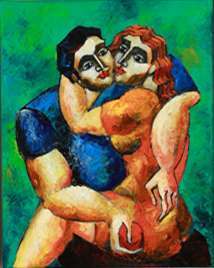 Known for his cubist-styled narrative paintings that reveal both what our eyes see and what the mind knows, Yuroz is back romancing his viewers this summer with a textural symphony of canvases, massaging our psyche and emotions with layers of expressiveness. Mixing color right on the canvas with nothing but a single palette knife, manipulating light and shade with raised surface of undiluted paint, Yuroz masterfully conveys the warmth of an embrace, the sweetness of an offering, the tenderness of a caress, the blithe of togetherness and the tranquility of one's trance.
The Making of Lovers' Embrace
"Painting with a knife is fast-paced, exciting and fun but I still stick to my training and my daily regimen. Sketching is a painter's warm up exercise but that is where new ideas are represented for the first time. Using just a pencil to repeatedly sketch the same ideas, that's how we perfect our compositions and designs. Sometimes I would go through 20, 30 or 40 sketches before I am happy to proceed. I am often asked by collectors how I know when to stop sketching. Honestly, I can't really tell. I just feel it," explained Yuroz. "I would work on a study and depending on how I feel about that, I may do another one, and another one before I work with larger canvases. Impasto with oil on canvas is no different but the feeling of pushing paint and rolling a flat metal surface around to create the color, texture and style is very addictive," Yuroz noted.