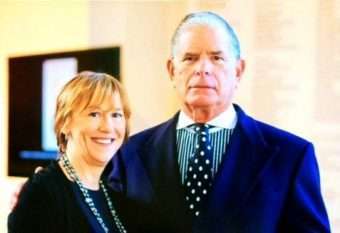 On August 23rd, we learned that the Museum of Contemporary Art San Diego has acquired Yuroz's 1992 release of Kiss Under the Red Hat, a limited edition serigraph on paper, 60 x 40 inches (152.4 x 101.6 cm) into its permanent collection. This acquisition was made possible by the generous donation of Mr. and Mrs. Michael and Tami Lang.
Kiss under the Red Hat depicts a capsule of romantic longing where the man sifts through the woman's hair with his fingers like sand through an hourglass and she teases his chin with a caress of her fingernail. She dangles her private love from her finger tips in the form of Yuroz's iconic blue rose. The couple hides under her red hat which defines their togetherness. The hat likens a canopy for the couple to play under, a secret shelter from all distractions, and there they lose themselves in the emotions they share.
Yuroz began releasing limited edition serigraphs since 1989, beginning with The Kiss. In 2016, the Dance with the Pomegranates limited edition release broke seven years of silence in Yuroz's serigraphy activities, returning with this beautiful print on museum board with 23 karat gold leaf finish. Contact us to learn more and bring home this testament of love and beauty represented by master artisan's work.