What is the story behind "100 children"?
Inspired by Yuroz's signature performance of drawing on his admirers' clothes during certain art shows, Noah's Ark Art Gallery's proprietor, Dr. Mosses Herkilian, came up with the idea of asking Yuroz to stay till the fourth day of the "Rebirth of a Nation" Exhibition to draw on white t-shirts of 100 children at the Beirut Exhibition Center in Lebanon.
Along with his dedicated staff Elo Saradjian and Herag Hergelian, Dr. Mosses Herkilian set up Noah's Ark Art Gallery 20 years ago to introduce Armenian artists and their art to the world and was one of the forces that helped make this exhibition possible.
The idea behind "100 children" is that children are full of life.  They carry on their ancestors' legacy.  With 100 young children, each carrying on with a t-shirt containing an original work with Yuroz's signature Blue Rose and Pomegranate, they symbolize the 100 years of strength and healing through compassion for the survivors, their families and the Armenian nationals during the last 100 years after the Armenian Genocide.
Interacting with the audience is one of the highlights of every art show for Yuroz.  "I get inspired and the audience receives a piece of original art for keepsakes, that seems pretty fair to me", explained Yuroz in prior interviews.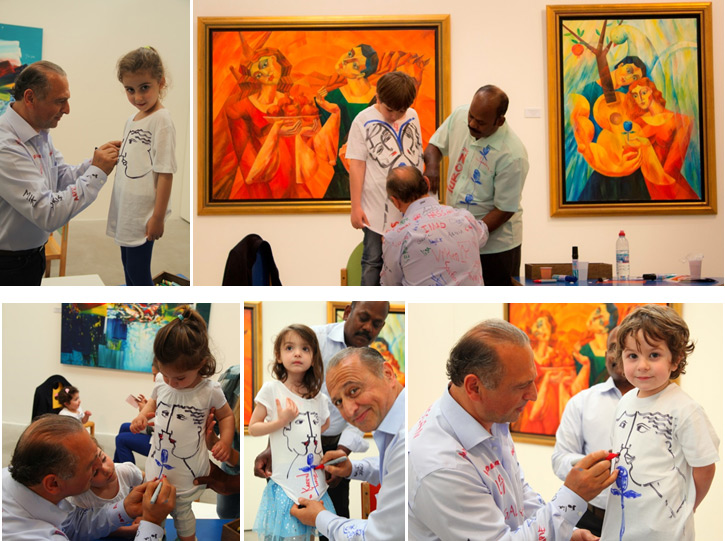 With the organizers' support and the artist's blessings,  invitations were blasted out on local newspaper and television ads.  Babies, toddlers, teenagers and young adults all piled in.   The youth with different heritage, religion, sects and creed all came for art's sake.  Children tract from the border of an Armenian village.
Requests were pouring in to have Yuroz schedule another event on Sunday so more children could come.  "There is a war zone just a few miles from the venue and bombs are dropping.  If through my art, I can give these children the certainty of hope and drive to grow, and therefore another reason to live, I will draw on another hundred kids without doubt," said Yuroz as he openly yielded to popular demands and again delayed his return flight home.
Another 15 kids from a college of arts showed up together on Sunday in a van to be drawn by the artist.  They all came for the same thing, to connect, to communicate, to be inspired and to unite through the common language of art.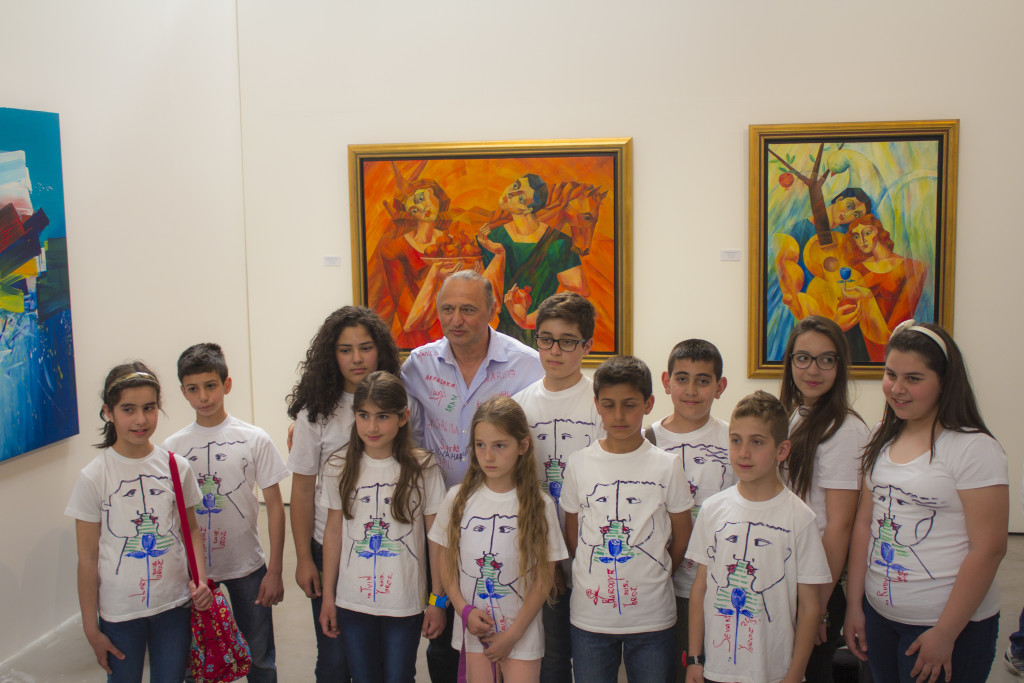 As each child got closer to the top of the queue, you could see in their faces that they got more and more excited.  They were delighted when Yuroz invited each child to sign his shirt after he was finished drawing on theirs.
As they happily left their permanent mark on the artist's favorite blue dress shirt, much like what the artist did with their shirts, the children's faces beamed of pride, joy and the feeling of significance.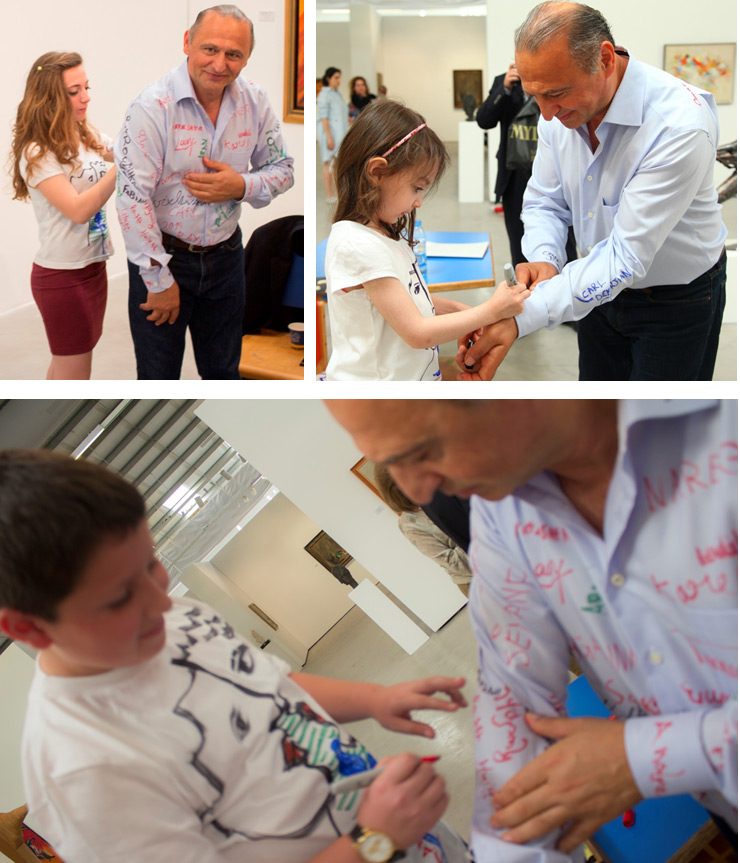 "I simply thought it was a two-way-street of an experience where by drawing on me, the children acquired the status of an adult or the artist they are drawing on.  They feel important.  They are connected to me.  As for me, I receive this wonderful souvenir with their signatures for keepsakes to remind me about these magical moments."
A beautiful three-year-old with curly hair and green eyes was looking down on her chest, her eyes following the artist's marker.  She shivered as Yuroz made his first firm line.  "She is ticklish," said the mother with a soft smile, "but she will survive".  Within 15 seconds, the image emerged on her shirt and the crowd cheered with awe. "Wow this is so beautiful" was amongst the whispers of approval you hear from the crowd.
At the end, Yuroz made over 250 connections, drew on over 250 pieces of garment but more importantly, listened to over 250 sets of aspirations.
Yuroz's hope was that he did not just make a mark on their apparel but this memory would prompt the beginning of their search for a common ground to spark creativity, love and prosperity as citizens of the earth, together as one earth nation with "what you have to offer" as the only distinction and not "where you are from" nor "what language you speak".
What the children did not know was how each of those 250 interactions would forever impact the next line, the next curve and the next paint-stroke in Yuroz's future creations, perpetuating their impact when the next time people from different parts of the world connect in one common art speak under a Yuroz creation.
Yuroz travels with his United Nations Mural Series, engaging countries, states and corporate sponsors to utilize art speak to build common ground, engage its citizens as citizens of the earth in cultural events to  communicate and to learn, to contribute and to share under one color – the Colors of the Earth.
Continue: Rebirth 3: Opening Day
Previous: Rebirth 1: The Exhibit